KM311 rock support bolter / bolting rig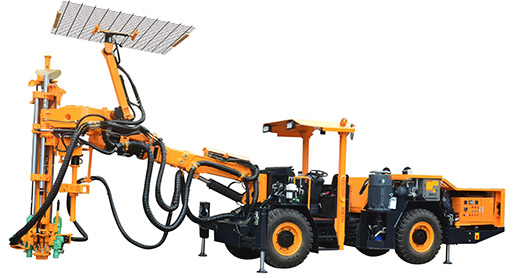 KM311 rock bolter, a fully mechanized bolting rig optimized for 5m x 5m size headings Roof support bolting and meshing. Engineered to install the most common fastening rock bolt types in roof profiles stabilizing, this roof bolting rig, in combination a screen handling arm for installation of steel wire mesh,is versatile for all rock bolting / reinforcement operations, in civil engineering, tunneling and underground mining operations.With improving safety,accurately,fast & constant positioning,drilling and bolting,the drilling rig increases your productivity while lowering your operating costs.
An open service arichitecture,maked this rock bolting rig easy maintenance and service.
Features
» Designed for roof reinforcement in underground mines with small and medium cross sections as small as to 2.5*4 m(W*H)
» Easy to Drill and Bolt Vertical,inclined 3m depth Bolting holes at 5m height roof
» Install several rows of 1.5–3-meter (5–10ft) rockbolts from a single set-up
» Length of bolts 5',6',7',8'and 10'
» Well-proven bolting head with reliable parts
» The rock bolting process is completely mechanized and controlled by a single operator from under a ROPS/FOPS safety cabin or FOPS safety canopy
» Produtivity up to 7800 bolts/month
Technical Specifications
Hydraulic Drifter/Rock Drill
Control System
Type
HC50(Drilling)
HC50(Bolting)
Anti-jamming control
Yes
Percussion power
13kW
Rotation control
Adjustable/Reversible
Percussion pressure
Max. 150 bar
Flushing control
Water flow and pressure
Percussion rate
62Hz
Percussion control
Adjustable power
Rotation torque
330 Nm
Voltage
24V
Hole size (bolting)
∅32 - 51 mm
Carrier
Shank adapter
45 mm / R32 male
Type of carrier
Frame-steered
Bolting Head
Carrier articulation
± 35°
Bolt carousel capacity
10 rock bolts with 200 x 200 mm Max. plate size
Rear axle oscillation
± 10°
Deutz engine BF4L914
73 kW,air cooled Tier 3
Bolt head length
Max. 4150 mm
Transmission Hydrodynamic
DT12000
Bolting Boom
Front / Rear Axles
DANA 123
Boom extension
1200 mm
Tires
12.00-20
Roll-over angle
360° Rotaty Actuator
Service brakes
Hydraulic wet disc
Hydraulic System
Parking and emergency brakes
SAHR fail safewet disc
Powerpack
1 x 55 kW
Tramming speed
Max.16 km/h
Percussion pump
100 cc (variable)
Gradeability / sideways tilt
Max. 15° / 5°
Rotation pump
45 cc (gear)
Ground clearance
320 mm
Filtration
10 µ
Centralized greasing points
10 ports
Oil tank volume
200 liters
Air And Water System
Cooler for hydraulic oil
Oil-to-water 1 x 30 kW
Flushing
By water
Electric System
Water pump capacity
50 l/min
Standard voltages
380 - 690 V (± 10%), 50 or 60 Hz
Rock drill oil consumption
100 - 200 g/h
Total installed power
70 kW
Rock drill air consumption
150 - 250 l/min
Batteries(Chargeable)
2 x 12 V, 80 Ah
Air compressor
1 m³/min (7 bar)
Cable Reel
80m-100m
Overall with bolts 1.5m,others depending on options.
Cable reel lubrication
Manual
Weight
12900 kg
Cable reel mud clean
Manual
Transport / bolting length
10500 mm / 9650 mm
Front lights
6 x 50W LED (4200 lm, 6000 K)
Tramming / bolting width
1800 mm / 3100 mm
Rear lights
4 x 50W LED (4200 lm, 6000 K)
Tramming / bolting height
2000 mm / 3300 mm
Percussion hour meters
Optional
Turning width(T-section)
3000 mm
Operator remote control
Optional
Turning radius(Inner/Outter)
R3280 / R6000 mm
Below dimensions in mm,and against bolting rods length 1500mm.Optimum operating coverage about 6.6*2.5m at height 5.5-8m.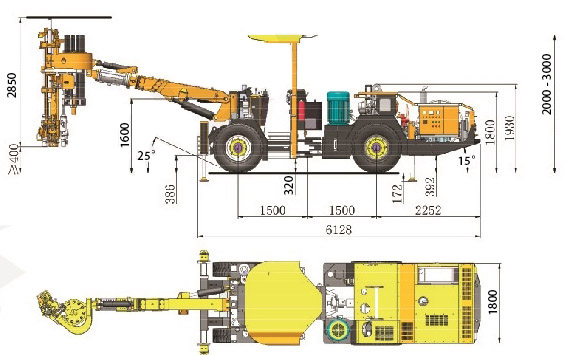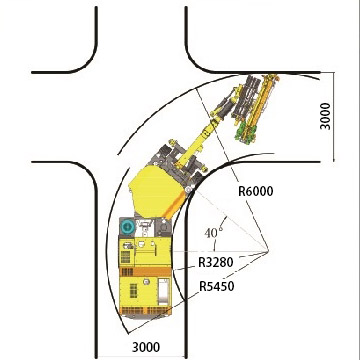 Its optimal mechanized bolt installation with the ability to use most rock bolt types, including Swellex, SplitSet, rebar, resin cartridges,mechanical anchor and more.

Tailor-made specifications accepted.