Extremely safe, productive,reliable,and easy maintenance machines supplying


SMLHD14 LHD load haul dump 14 Ton Tramming Capacity

Features
Split Mountain four-wheel drive, articulated loaders ranging from 1 to 50 tonnes have been engineered with operator safety, productivity and reliability as top priorities. The simple and robust design offers low maintenance and long life with impressive features and options that help drive down operating costs Safety.
• ROPS/FOPS canopies for certified operator protection
• Spring applied brakes: fail safe system activated on low engine, transmission and hydraulic oil pressure
• Three (3) point mounting and anti-slip steps help design out slips and falls
• Hot component Isolation
• Interlocks and safety systems protect person and machine
• Ground level maintenance
Reliability
• Robust steel frame structures built strong for long life
• Collet style pins for ease of maintenance and increased life between replacement
• Heavy duty mechanical powertrain - proven performance underground
• Hydraulic systems with piston pumps - cooler operation for longer life
• Severe duty electric system - quality MIL spec components
• Centralized lubrication gets grease to the right places
• Ease of maintenance helps ensure long life Productivity
• Heavy-duty all mechanical powertrain featuring Dana components deliver efficient
power to the ground and maximize tractive effort
• Robust design helps lead to fewer failures and more up time
• Bucket geometry allow for easy filling
• Ergonomically designed large operators compartment with excellent visibility and easy to operate controls.
The suite of loaders includes models that suit a range of small-to-large openings with additional capacity for heavier materials.
A variety of standard options are available for a custom solution:
• Bucket volumes matched to material density
• Ejector bucket
• Quick attach systems for forks or other attachments
• Cummins, Deutz or MTU engine options
• Enclosed operator's compartment with air conditioning
• Automatic lubrication system
• Manual or automatic fire suppression systems
• Electric LHDs optional ( Transport distance 120 -150 meters).

Working views of 14 tons LHD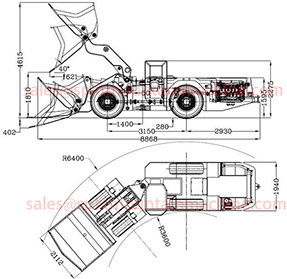 Small ones without Cabin illustration



Split Mountain Machine And Equipment Co.,Ltd. Copyright©splitmountainmachine.com Rights Reserved.