Split Mountain secondary breaking drill rig,SMJR19,is a robust,single telescopic boom,self-contained diesel-hydraulic jumbo rig, with on-board water tank and air compressor for air-mist flushing.This drill rig is engineered to optimize extraction rates and safely release blockages to improve drawpoint availability in back caving operations and narrow vein mining.Split Mountain secondary breaking drill increases productivity by breaking oversized boulders without the need for explosives and time-consuming ventilation and evacuation measures.A major benefit of this breaking method is a vibration-free working environment with low dust levels, since explosives are not needed. Remote control for our secondary breaking drill rig optional,to ensure a safe working environment for the operators. Split Mountain range of secondary breaking drills could include compact and flexible mining jumbos, longhole rigs as well as drill-charge and drill-split breaking units capable of fast, easy positioning and effective operations in confined spaces. The jumbo layout of the larger machines provides a well-protected work environment for maximum productivity, while the smallest rig offers the best accessibility and flexibility in confined spaces.
Quick Facts
» Drifter / rock drill: HC50,13kW,
» Feed 360-degree rollover and +30° / - 27°Swing,ideal for cleaning rocks on ground and hangup,
» Hole diameter: 33-51 mm with 2400mm length,
» Breaking method: drilling only,
» Engine power: 93kw/2200rpm Cummins,

Features
- Well-protected canopy/cabin for improved safety,
- Compact carrier for flexible mobility,
- No connection requirement for external power or water enables fast set up and takedown,
- High-frequency rock drill for superior productivity,
- Troubleshooting, fault finding and maintenance made easy,
- Spare part commonality across product family.

Technical Specifications
Hydraulic Drifter/Rock Drill
Control System
Type
HC50
Anti-jamming control
Yes
Percussion power
13kW
Rotation control
Adjustable/Reversible
Percussion pressure
Max. 150 bar
Flushing control
Water flow and pressure
Percussion rate
62Hz
Percussion control
Adjustable power
Rotation torque
330 Nm
Voltage
24V
Hole size (bolting)
∅33-51 mm
Carrier
Shank adapter
T38 / R32 male
Type of carrier
Frame-steered
Boom
Carrier articulation
± 35°
Parallel holding
Complete
Rear axle oscillation
± 6°
Lifting angle
Up45°,down 16°
Cummins engine QSB-C80-31
93 kW,QSB3.9- C125
Swing
left 30°,right 27°
Transmission Hydrodynamic
DT20000
Extension
1200 mm
Front / Rear Axles
DANA 123
Feed extension
850 mm
Tires
11.00-20
Feed roll-over angle
360° Rotaty Actuator
Service brakes
Hydraulic wet disc
Hydraulic System
Parking and emergency brakes
SAHR fail safewet disc
Powerpack
1 x 45 kW
Tramming speed
Max.16 km/h
Percussion pump
100 cc (variable)
Gradeability / sideways tilt
Max. 15° / 5°
Rotation pump
45 cc (gear)
Ground clearance
320 mm
Filtration
10 µ
Centralized greasing points
10 ports
Oil tank volume
200 liters
Air And Water System
Cooler for hydraulic oil
Oil-to-water 1 x 30 kW
Flushing
By water
Electric System
Water pump capacity
16 l/min
Main switch gear
24V
Rock drill oil consumption
100 - 200 g/h
IP classification
IP65
Rock drill air consumption
250 l/min
Batteries(Chargeable)
2 x 12 V, 90 Ah
Air compressor
0.5 m³/min (7 bar)
Park lights
2 x Red LED
Overall with bolts 1.85m,others depending on options.
Parking rear brake lights
2 x Red LED
Weight
14000 kg
Search light
Manual
Transport length
8155 mm
Front lights
4 x 50W LED (4200 lm, 6000 K)
Tramming / drilling width
1780 mm / 2600 mm
Rear lights
4 x 50W LED (4200 lm, 6000 K)
Tramming / drilling height
2000 mm / 2852 mm
Percussion hour meters
Optional
Turning width(T-section)
2600 mm
Operator remote control
Optional
Turning radius(Inner/Outter)
R2670 / R5000 mm
Below dimensions in mm,and against drilling steels/ rods length 1850mm.Optimum operating coverage about 30 m2.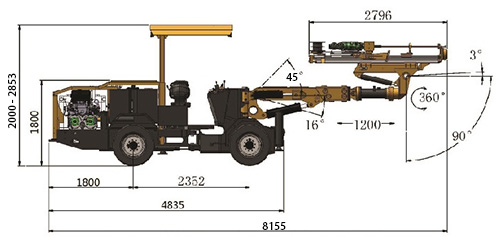 Tailor-made specifications accepted.