Extremely safe, productive,reliable,and easy maintenance machines supplying


SMJR15 track mounted development drill rig

Features
» Designed to work for small or devision tunnel and narrow vein excavation with headroom as low as to 2 meters. Bolting heigth as low as to 2.5 m, offers a good performance-to-cost ratio for 2.3x2.3-meter drifts, gives you tools to increase your productivity, improve safety and lower your operating costs with reliability,
» Past cross sections as small as to 1.5*1.8 m(W*H),
» 360-degrees rotation and full automatic parallelism for fast and easy face drilling,
» All the service points well-protected but easy to access.
Technical Specifications
Hydraulic Drifter/Rock Drill
Control System
Type
HC50
Anti-jamming control
Yes
Percussion power
13kW
Rotation control
Adjustable/Reversible
Percussion pressure
Max. 130 bar
Flushing control
Water flow and pressure
Percussion rate
62Hz
Percussion control
Adjustable power
Rotation torque
325 Nm
Voltage
24V
Hole size (bolting)
∅38-76 mm
Carrier
Shank adapter
T38 / R32 male
Type of carrier
Track / Crawler
Boom
Tracks
triple grouser, sealed and lubricated
Parallel holding
Complete
Width
305 mm / 12 in
Lifting angle
Up55°,down 16°
Cummins engine QSB-C80-31
60 kW,Tier 3
Swing
left 35°,right 35°
Transmission
Double-speed motor
Feed dump cylinder
Up16°,down 90°
Tramming speed
Max.2.5 km/h
Feed extension
800 mm
High gear
Max.2.5 km/h
Feed roll-over angle
360° Rotaty Actuator
Low gear
1.2 km/h
Hydraulic System
Hydraulic jacks, front
2 extendable
Powerpack
1 x45 kW
Oscillation angles
+/- 6°
Percussion pump
100 cc (variable)
Gradeability / sideways tilt
Max. 25° / 5°
Rotation pump
45 cc (gear)
Ground clearance
180 mm
Filtration
10 µ
Centralized greasing points
8 ports
Oil tank volume
200 liters
Air And Water System
Cooler for hydraulic oil
Oil-to-water 1 x 30 kW
Flushing
By water
Electric System
Water pump capacity
50 l/min
Standard voltages
380 - 690 V (± 10%), 50 or 60 Hz
Rock drill oil consumption
180 - 250 g/h
Total installed power
60 kW
Rock drill air consumption
300 l/min
Batteries(Chargeable)
2 x 12 V, 70 Ah
Air compressor
0.5 m³/min (7 bar)
Cable Reel
80m-100m
Overall with rods 2.4m,others depending on options.
Cable reel lubrication
Manual
Weight
6600 kg
Cable reel mud clean
Manual
Transport length
8600 mm
Front lights
6 x 50W LED (4200 lm, 6000 K)
Tramming / drilling width
1200 mm / 1440 mm
Rear lights
4 x 50W LED (4200 lm, 6000 K)
Tramming / drilling height
1780 mm / 2300 mm
Percussion hour meters
Optional
Turning width(T-section)
2800 mm
Operator remote control
Optional
Turning radius(Inner/Outter)
R3263 / R5400 mm
Below dimensions in mm,and against rods length 2470mm.Optimum operating coverage about 4
x
3.6m.
Tailor-made specifications accepted.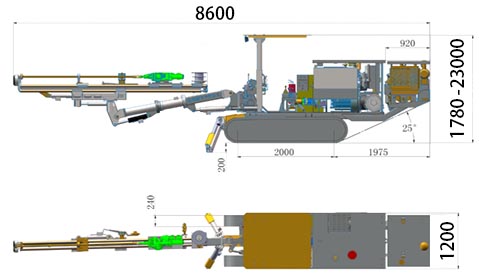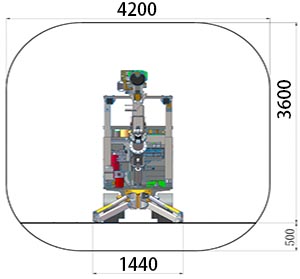 Split Mountain Machine And Equipment Co.,Ltd. Copyright©splitmountainmachine.com Rights Reserved.