Extremely productive,reliable,and easy maintenance machines supplying


KSJ21 CYTC115(A) top hammer production long-hole drill rig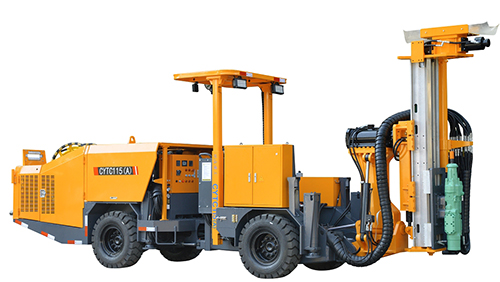 KSJ21 is a production long-hole drill rig for narrow-vein mines with drifts 2.9m ×2.8m to 5.2m ×4.5m.Also it could be used as a cable bolter or cable-bolting rig for rock reinforcement. This production long-hole dril rig designed for vertical and inclined plane rings and fans. It is capable of drilling holes with a diameter of 64 to 115 millimeters with a depth of up to 35 meters.

Quick facts
» 360-degree ring drilling with Parallel Holes Upwards/downwards up to 3066 mm apart,
» Hole diameter: 64-115 mm with Montabert HC95LQW Rock Drill/Drifter,
» Hole depth: Up to 35 m,
» Engine power: 93kw/2200rpm Cummins QSB3.9-C125,
» Motor power:75 kw ABB.

Features
- Vertical and inclined plane rings and fans drilling,
- Also for parallel long production holes,
- As well as for long single holes,
- 360 rotation in full parallel coverage area and wide tilt angle ranges forward and backwards make the boom suitable to various drilling applications,
- Operator's safety,FOPS-approved protective roof,panel mounted under canopy,an ergonomic working environment.Cabin optional,
- Front and Rear Mounted Stingers For Stable Set Up For Drilling,
- Excel for hard rock drilling and in tough working conditions.

Technical Specifications
Hydraulic Drifter/Rock Drill
Control System
Type
HC95LQW
Anti-jamming control
Yes
Percussion power
24kW
Rotation control
Adjustable/Reversible
Percussion pressure
Max. 200 bar
Flushing control
Water flow and pressure
Percussion rate
48-57Hz
Percussion control
Adjustable power
Rotation torque
955 Nm
Voltage
24V
Hole size
∅64 -76 mm
∅89 -115 mm
Carrier
Shank adapter
T38 male
T45 male
Type of carrier
Frame-steered
Drill unit
Carrier articulation
± 35°
Rod carousel capacity
27 pcs
Rear axle oscillation
± 10°
Feed /Pull Force
31 kN
Engine - Cummins
93 kW,QSB3.9- C125
Feed extension
800 mm
Transmission Hydrodynamic
DT20000
Feed dump
+30 Degrees forward
Front / Rear Axles
DANA 123 / 112
Feed drilling
-65 Degrees backward
Tires
300-15
Drill Rod
4'-6' Rods
Service brakes
Hydraulic wet disc
Hydraulic System
Parking and emergency brakes
SAHR fail safewet disc
Powerpack
1 x 75 kW
Tramming speed
Max.16 km/h
Percussion pump
100 cc (variable)
Gradeability / sideways tilt
Max. 15° / 5°
Rotation pump
55 cc (gear)
Ground clearance
271 mm
Filtration
10 µ
Centralized greasing points
10 ports
Oil tank volume
240 liters
Air And Water System
Cooler for hydraulic oil
Oil-to-water 1 x 45 kW
Flushing
By water
Electric System
Water pump capacity
100 l/min
Standard voltages
380 - 690 V (± 10%), 50 or 60 Hz
Rock drill oil consumption
180 - 250 g/h
Total installed power
90 kW
Rock drill air consumption
300 l/min
Batteries(Chargeable)
2 x 12 V, 80 Ah
Air compressor
1 m³/min (7 bar)
Cable Reel
80m-100m
Overall with rods 1000mm,others depending on options.
Cable reel lubrication
Manual
Weight
19000 kg
Cable reel mud clean
Manual
Transport / bolting length
6750 mm / 8180 mm
Front lights
6 x 50W LED (4200 lm, 6000 K)
Tramming / bolting width
2000 mm / 2782 mm
Rear lights
4 x 50W LED (4200 lm, 6000 K)
Tramming / drilling height
2585 mm / 2770 mm
Percussion hour meters
Optional
Turning width(T-section)
2800 mm
Operator remote control
Optional
Turning radius(Inner/Outter)
R3283 / R5352 mm
Below dimensions in mm,and against drilling rods length 1000mm..
Tailor-made specifications accepted.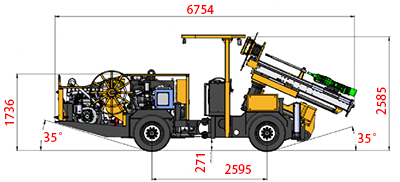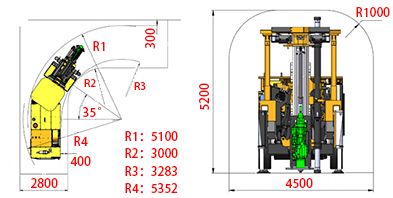 Split Mountain Machine And Equipment Co.,Ltd. Copyright©splitmountainmachine.com Rights Reserved.