KM312 rock reinforcement roof support bolting rig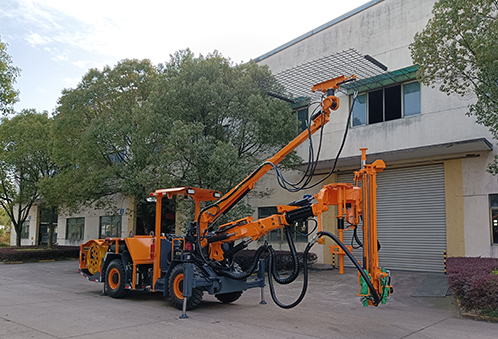 Split Mountain KM312 is a rock reinforcement drill rig that installs all most common rock bolt types in combination with a screen handling arm for installation of steel wire meshes when required. Provided with a strong and reliable boom K28F, it can install from one carrier setup, several rows of rock bolts,from 1.5 m to 3 meters long. The extremely short but powerful Montabert HC50 rock drill delivers the best ratio between the rock bolt length and drift height. The rock bolting process is completely mechanized and controlled by a single operator from under a ROPS/FOPS safety cabin or FOPS safety canopy. As all the Split Mountain drill rigs based on the sturdy carrier family, the Split Mountain KM312 is designed for safety,reliablity while easy maintenance, most of the daily and routine checks are done with both feet on the ground..

Features
» Designed for roof reinforcement in underground mines with small and medium cross sections as small as to 2.5*4 m(W*H)
» Easy to Drill and Bolt Vertical,inclined 3m depth Bolting holes at 5m height roof
» Install several rows of 1.5–3-meter (5–10ft) rockbolts from a single set-up
» Length of bolts 5',6',7',8'and 10'
» Well-proven bolting head with reliable parts
» The rock bolting process is completely mechanized and controlled by a single operator from under a ROPS/FOPS safety cabin or FOPS safety canopy
» Produtivity up to 7800 bolts/month
Technical Specifications
Hydraulic Drifter/Rock Drill
Control System
Type
HC50(Drilling)
HC50(Bolting)
Anti-jamming control
Yes
Percussion power
13kW
Rotation control
Adjustable/Reversible
Percussion pressure
Max. 150 bar
Flushing control
Water flow and pressure
Percussion rate
62Hz
Percussion control
Adjustable power
Rotation torque
330 Nm
Voltage
24V
Hole size (bolting)
∅32 - 51 mm
Carrier
Shank adapter
45 mm / R32 male
Type of carrier
Frame-steered
Bolting Head
Carrier articulation
± 35°
Bolt carousel capacity
10 rock bolts with 200 x 200 mm Max. plate size
Rear axle oscillation
± 10°
Deutz engine BF4L914
73 kW,air cooled Tier 3
Bolt head length
Max. 4150 mm
Transmission Hydrodynamic
DT12000
Bolting Boom
Front / Rear Axles
DANA 123
Boom extension
1200 mm
Tires
12.00-20
Roll-over angle
360° Rotaty Actuator
Service brakes
Hydraulic wet disc
Hydraulic System
Parking and emergency brakes
SAHR fail safewet disc
Powerpack
1 x 55 kW
Tramming speed
Max.16 km/h
Percussion pump
100 cc (variable)
Gradeability / sideways tilt
Max. 15° / 5°
Rotation pump
45 cc (gear)
Ground clearance
320 mm
Filtration
10 µ
Centralized greasing points
10 ports
Oil tank volume
200 liters
Air And Water System
Cooler for hydraulic oil
Oil-to-water 1 x 30 kW
Flushing
By water
Electric System
Water pump capacity
50 l/min
Standard voltages
380 - 690 V (± 10%), 50 or 60 Hz
Rock drill oil consumption
100 - 200 g/h
Total installed power
70 kW
Rock drill air consumption
150 - 250 l/min
Batteries(Chargeable)
2 x 12 V, 80 Ah
Air compressor
1 m³/min (7 bar)
Cable Reel
80m-100m
Overall with bolts 1.5m,others depending on options.
Cable reel lubrication
Manual
Weight
12900 kg
Cable reel mud clean
Manual
Transport / bolting length
10500 mm / 9650 mm
Front lights
6 x 50W LED (4200 lm, 6000 K)
Tramming / bolting width
1800 mm / 3100 mm
Rear lights
4 x 50W LED (4200 lm, 6000 K)
Tramming / bolting height
2000 mm / 3300 mm
Percussion hour meters
Optional
Turning width(T-section)
3000 mm
Operator remote control
Optional
Turning radius(Inner/Outter)
R3280 / R6000 mm
Below dimensions in mm,and against bolting rods length 1500mm.Optimum operating coverage about 6.6*2.5m at height 5.5-8m.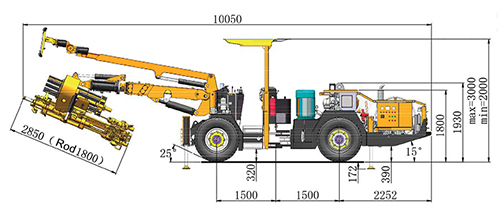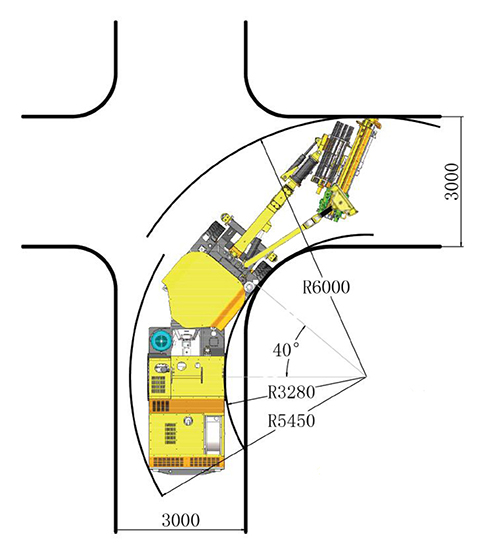 Its optimal mechanized bolt installation with the ability to use most rock bolt types, including Swellex, SplitSet, rebar, resin cartridges,mechanical anchor and more.

Tailor-made specifications accepted.