KJ421 is a two-boom, electro-hydraulic mining development drill rig, engineered for fast and accurate drilling. This mining jumbo provides reliability of face drilling, cross-cut drilling and bolt-hole drilling in tunneling of 8-60-square-meter cross sections. Well-designed, structures and proven components ensure this mining jumbo a reliable workplace for both operators and maintenance crews. Optimised drilling control system will help to keep holes straight, reduce jammings and maximize the tool life consistently.
Quick Facts
» Drifter / rock drill: HC95LM, 21 kW,
» Feed 360-degree rollover and ±45° Swing,ideal for cross cutting and bolting,
» Hole diameter: 64 - 102 mm with HC95LM Rock Drill/Drifter,
» Coverage: 8 - 68 m2,
» Engine power: 93kw/2200rpm Cummins,
» Motor power:75 kw ABB*2.

Features
- heavy-duty boom with double tripod suspension for accurate hydraulic parallel holding in all directions,
- heavy-duty aluminium feed with high bending and torsional resistance for maximum durability,
- FOPS/ROPS-certified cabin/canopy offers increased safety for operators,
- Troubleshooting, fault finding and maintenance made easy,
- Spare part commonality across product family.

Technical Specifications
Hydraulic Drifter/Rock Drill
Control System
Type
HC95LM
Anti-jamming control
Yes
Percussion power
21kW
Rotation control
Adjustable/Reversible
Percussion pressure
Max. 200 bar
Flushing control
Water flow and pressure
Percussion rate
54 - 62 Hz
Percussion control
Adjustable power
Rotation torque
764 Nm
Voltagel
24V
Hole size (bolting)
∅64 - 102mm
Carrier
Shank adapter
T45 / T38 male
Type of carrier
Frame-steered
Boom
Carrier articulation
± 40°
Parallel holding
Complete
Rear axle oscillation
±10°
Lifting angle
Up55°,down 16°
Cummins engine QSB-C80-31
93 kW,Tier 3
Swing
left 35°,right 35°
Transmission Hydrodynamic
DT20000
Extension
1800 mm
Front / Rear Axles
DANA 123
Feed extension
1600 mm
Tires
14.00-24
Feed roll-over angle
360° Rotaty Actuator
Service brakes
Hydraulic wet disc
Hydraulic System
Parking and emergency brakes
SAHR fail safewet disc
Powerpack
2 x 75 kW
Tramming speed
Max.16 km/h
Percussion pump
100 cc (variable)
Gradeability / sideways tilt
Max. 15° / 5°
Rotation pump
45 cc (gear)
Ground clearance
370 mm
Filtration
10 µ
Centralized greasing points
10 ports
Oil tank volume
300 liters
Air And Water System
Cooler for hydraulic oil
Oil-to-water 2 x 30 kW
Flushing
By water
Electric System
Water pump capacity
190 l/min
Standard voltages
380 - 690 V (± 10%), 50 or 60 Hz
Rock drill oil consumption
180 - 250 g/h
Total installed power
160 kW
Rock drill air consumption
360 l/min
Batteries(Chargeable)
2 x 12 V, 120 Ah
Air compressor
1.55 m³/min (7 bar)
Cable Reel
80m-100m
Overall with steels 3.7m,others depending on options.
Cable reel lubrication
Manual
Weight
25000 kg
Cable reel mud clean
Manual
Transport length
13000 mm
Front lights
6 x 50W LED (4200 lm, 6000 K)
Tramming / drilling width
2200 mm / 3010 mm
Rear lights
4 x 50W LED (4200 lm, 6000 K)
Tramming / drilling height
2400 mm / 3100 mm
Percussion hour meters
Optional
Turning width(T-section)
4060 mm
Operator remote control
Optional
Turning radius(Inner/Outter)
R3700 / R7300 mm
Below dimensions in mm,and against drilling steels/ rods length 3700mm.Optimum operating coverage about 60 m2.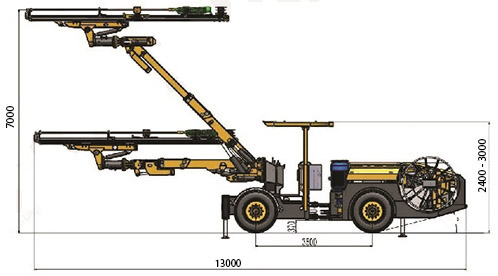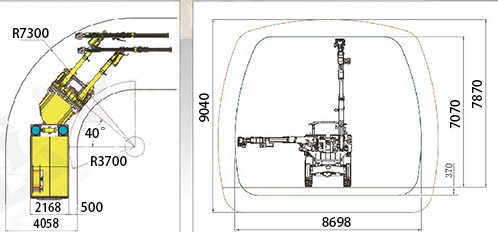 With console type optional